Seenetic VR® (beta version)
The first solution to avoid Virtual Reality sickness. 
Just slip Seenetic VR into your VR headset and enjoy the best immersion experience ever.
This stand-alone device is compatible with most of the head-mounted displays of the market.
🏆 Award-winning solution
🇫🇷 Made in France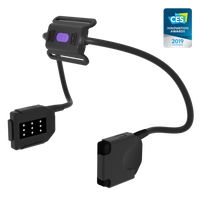 Virtual immersion, real comfort
Seenetic VR displays a light pattern in your peripheral vision. It synchronizes your eyes with your balance system and avoids VR sickness. You can enjoy long-time immersion with a unique comfort and experience the full power of Virtual Reality ! Seenetic VR is based on the same technology as the Boarding Glasses  developed by French startup Boarding Ring.